Lizelle was so delighted with her results, she continued using Oralift and this was her picture four years later. The most obvious improvement is to her eyes. Lizelle has what we call "incompetent lips" which meant she had difficulty keeping her lips together. Oralift helped with this.
The black and white pictures highlight the improvements and also show that her cheeks became fuller and that her skin has improved.
Here is an image focusing on Lizelle's fuller cheeks.
Here you can see how her eyes look wider and more lively.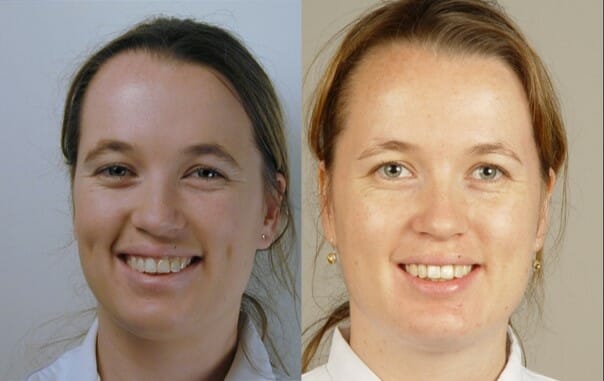 Lizelle noticed an improvement in her smile! The dark triangular spaces between the corners of her lips and teeth were reduced. This is due to muscle hypertrophy.
Usually when we talk about the smile we think of the teeth and the lips. The smile is much more than this – see how the eyes engage in the smile here too.