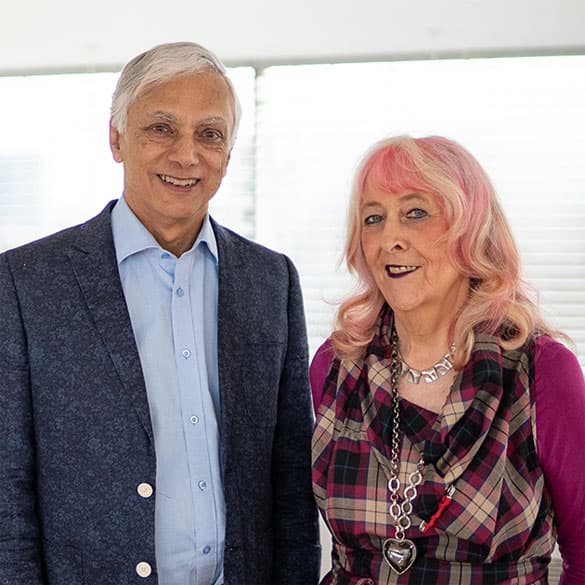 The best laid plans……….
In 1973 plans were in place to buy multiple dental practices but life cannot always be predicted and trouble lay ahead.
1975 saw the birth of Nick and Fran's first son Kieron. Kieron was born healthy but was diagnosed with serious kidney disease in 1977. Treatment began at Great Ormond Street Hospital but sadly the prognosis was kidney failure. At that time there was no dialysis available in South Wales for children, so Kieron had to be hospitalised for 2 years at Great Ormond Street for specialist treatment.
In 1980 Nick sold the dental practice in Wales and bought a practice in Kent within the catchment area for Guy's hospital where dialysis treatment would become available for his son. Kieron's illness understandably had a big impact on family life, changing views on life and work. Nick had seen up close how doctors had pushed boundaries for Kieron, driving medical progress to ultimately save lives. He was moved to do the same in his own profession, to break new ground and really make a difference.
Groundbreaking theory
Nick began to treat patients with facial pain and quickly developed a theory about reduced facial height. His first paper was published in 1996 and in 1998 the Daily Mail featured an article from Nick about dentures that make you look younger. The practice was flooded with enquiries from patients interested in the treatment.
Nick sold the Ashford practice in 1999 and bought premises in Wimpole Street, London to continue his work and be more central for patients. During this time dentate patients were treated with the same technique. In 2002 a second paper was published showing that patients can look 5 to 20 years younger with the treatment called 'The Dental facelift'
Birth of Oralift
It was during this time that Nick discovered that patients started to look better just by wearing the device he was using with his Dentalfacelift patients before any dental work was done – Oralift was born, trademarked and patented!
Although the road was long and hard, Kieron did go onto have a successful kidney transplant in 2004.
Nick started training dentists in the Dental facelift and Oralift treatments although the response from the UK was lukewarm. More interest came from overseas however and in 2015 a Korean distributor saw the Oralift treatment in a London clinic and was very interested.
Oralift DIY
Fast forward to 2019 and Oralift is very popular in South Korea, selling nationwide.
Nick and Fran have now developed the Oralift treatment to sell worldwide and are working with both Newable and the Department of International Trade. The treatment is now available for people to do themselves, to do with the support of Oralift, or under the supervision of a trained Oralift professional. Future plans include further research, product development and clinical trials.
Oralift has gained international recognition from cosmetic surgeons and was classed as 'ground breaking' by the Cosmetic Surgery Guide. Oralift is a registered Trade Mark and is patented worldwide. US Patents 7156774 & 7416516 & EU Patent 511440 apply, Brazil Patent pending.